The Top Causes of Winter Water Damage in Canton Ohio
1/2/2020 (Permalink)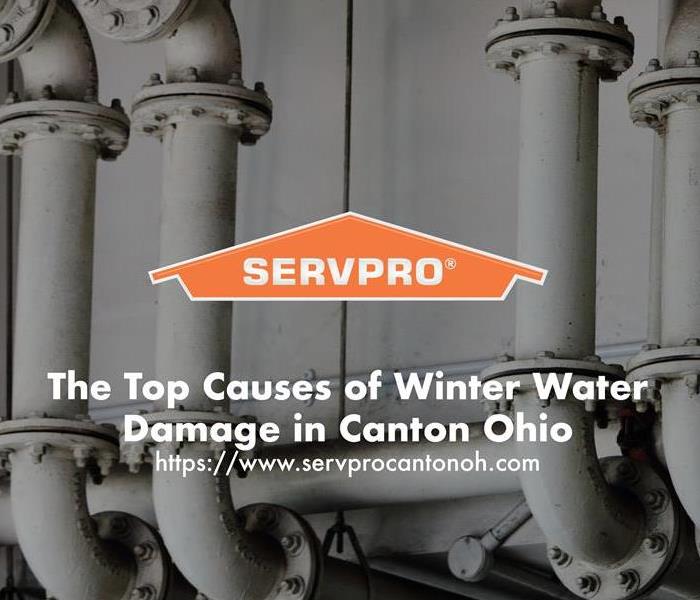 If you or someone you know is faced with water damage and needs restoration, the experts at SERVPRO can help.
Winter brings cold chilling temperatures in Canton Ohio and a host of water damage possibilities. Residential homes are vulnerable to water damage in the winter months. There are several factors that can cause even more water damage from the winter months.
Burst Pipes: Pipes are known for bursting in subfreezing temperatures. Pipes break due to the buildup of water pressure this is typically between a sink's faucet and an ice blockage. The pipe might be sturdy, but sometimes it is just ready to rupture.
Pipes that are more prone to breakage are uninsulated ones, located along the exterior walls in areas of a home, such as the attic, basement, garage, crawl space or underneath a kitchen sink.
Insulation is the number one protection against a burst pipe.
Prevent Gutter Blocks to Protect Your Roof: Gutters are important for directing running water away from your home. When gutters freeze, or are blocked by ice, it can cause deconstruction. That snow that is along the roof melts from heat that escapes from inside the home and trickles into the gutter; it freezes into what is known as an ice dam. Water can infiltrate underneath the roof shingles, lifting them up and causing roof damage. Roof leaks are the result. Once a leak happens, you may find unsightly water marks along your home's ceilings or drips
If you or someone you know is faced with water damage and needs restoration, the experts at SERVPRO can help to mitigate the damage and restore your home! Call (330) 305-2650